If you've ever scratched your head wondering, "What the heck is reworked vintage fashion?" or pondered how it's different from clothing recycling, or perhaps you've daydreamed about where to start your own clothing rework journey, you're in the right place! Just keep reading, because we're going to unravel even more than your granny's knitted sweater.
In this blog post, we're going to uncover:
– What does reworked vintage clothing actually mean?
– The benefits of upcycled vintage clothing
– Whether reworking vintage clothing is truly eco-friendly
– Some popular reworking techniques
– Where you can buy reworked clothing, both online and in real life
– Our favourite upcycle fashion brands that are turning oldies into goldies
– And finally, some DIY thrift flip ideas to ignite your creativity
So hold onto your bell-bottoms and prepare for a journey into the realm of unique transformations and artistic rework!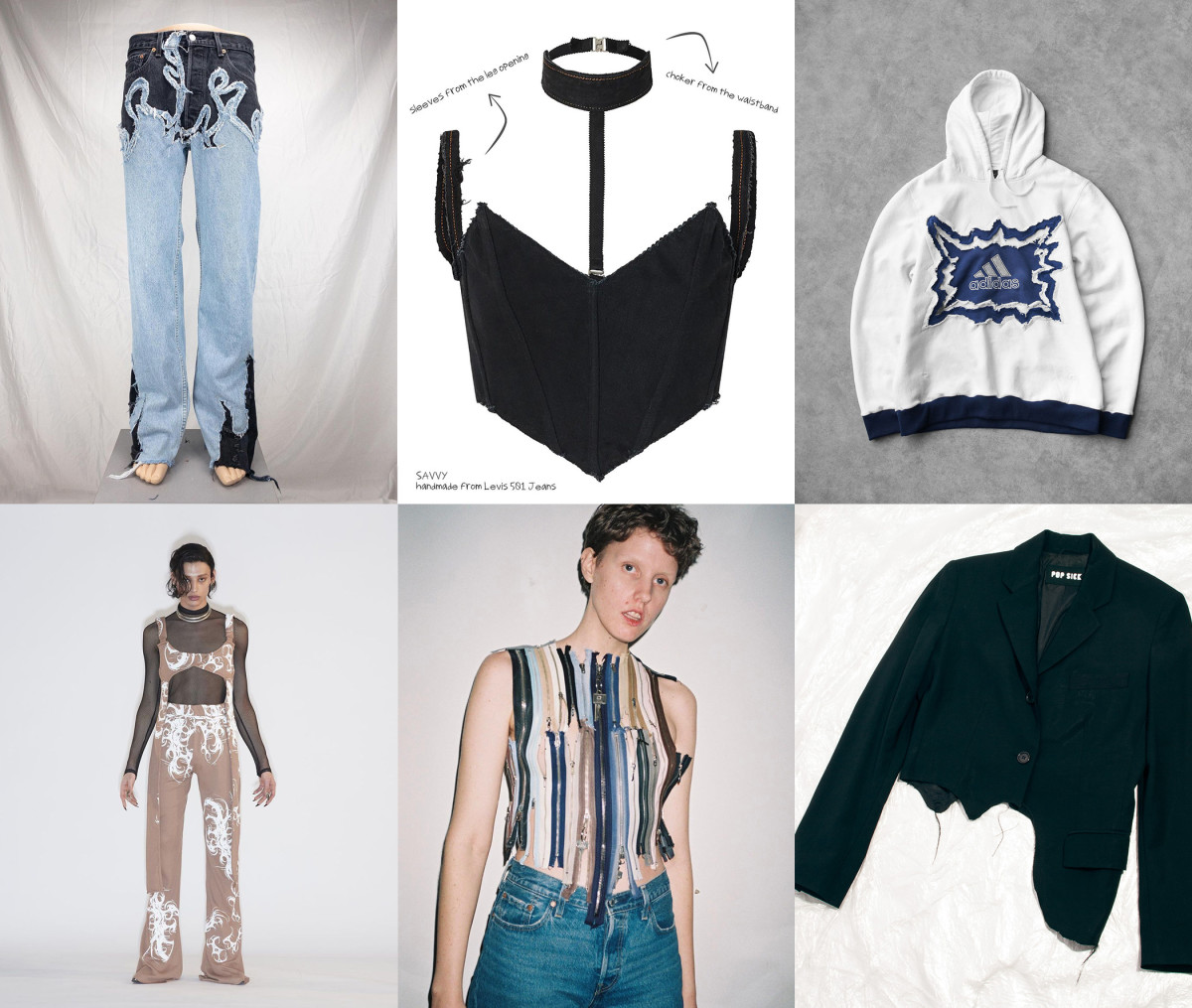 photos from top left to bottom right: 1 2 3 4 5 6
What Does Reworked Vintage Clothing Mean and How is It Different From Recycling?
Let's put it this way, if fashion had a mad scientist, this is where they'd be mixing and matching, experimenting with the old to create the new. In other words, reworked vintage clothing is like the love child of Doc Brown's time machine and Project Runway! This approach goes beyond mere refurbishing; it's an interpretation of vintage aesthetic in a fresh, modern context.
And you may be wondering how it is different from recycling.
While recycling involves breaking down materials to their raw form and creating something entirely new, reworking and upcycling entail giving existing items a fresh look or purpose without breaking down the original material. In essence, recycling is transforming old clothes into new fabric, while reworking and upcycling are about creatively enhancing and repurposing. It's also known by its other aliases: upcycled clothing, repurposed fashion or thrift flipping.
Whether you're adding patches to a vintage denim jacket, incorporating intricate embroidery into a 1960s dress, or distressing a pair of 90s jeans for that Kurt Cobain vibe, reworked vintage clothing is your ticket to an endless, sustainable fashion playground. It's all about the artistry of repurposing and reinventing fashion while giving a stylish side-eye to fast fashion.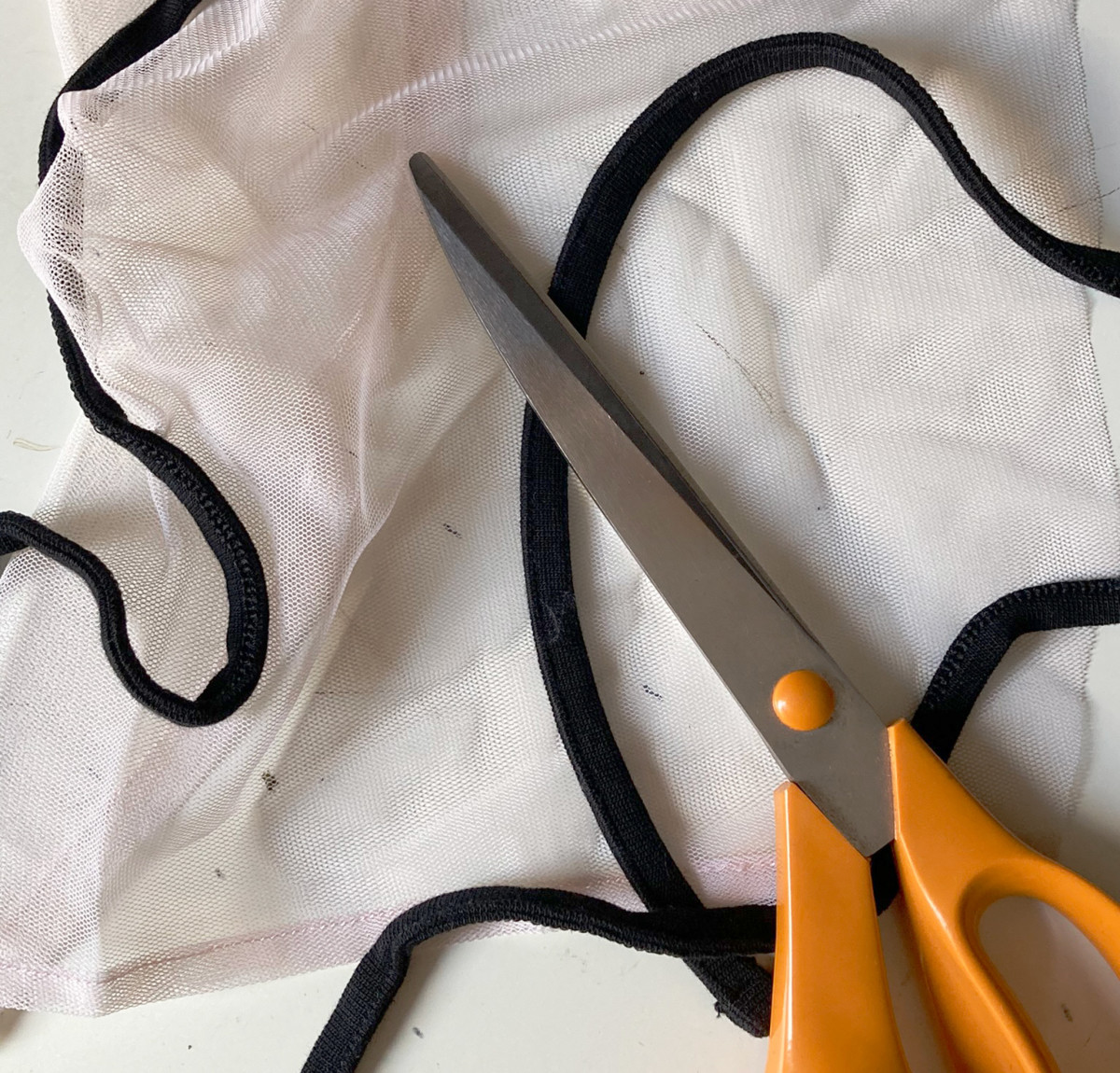 The Benefits of Reworked Vintage Clothing
Supporting Independent Artists and Designers
By choosing reworked vintage clothing, you're doing more than just updating your wardrobe. You're supporting independent artists and designers, the unsung heroes who work their magic to turn a 1980s prom dress into a modern-day stunner. Think of it as being a patron of the (fashion) arts, minus the old-timey frills and powdered wigs.
Dressing in one-off items
Each reworked piece is a one-off, unique as a unicorn and twice as dazzling. So you can sashay down your local high street safe in the knowledge that your look is truly one-of-a-kind.
It is just as eco-friendly as vintage fashion itself
Fast fashion? More like breakneck-speed fashion, with new trends flying off the shelves faster than you can say 'environmental disaster.' But here's the good news: besides vintage, reworked vintage clothing is the superhero we need. By giving new life to old clothes, we reduce waste and decrease the demand for new clothes, which means fewer resources used, and fewer clothes ending up in landfills.
Popular Reworking Techniques
This section delves into the nitty-gritty of how fashion reworkers breathe new life into vintage pieces.
Mix n Match Patchworking
Patchworking involves sewing together different pieces of second-hand fabric to create a vibrant, eye-catching collage. It's like a party where everyone's invited – prints, solids, florals, plaids. This rework technique, having risen to popularity around 2020, shows no signs of slowing down in 2023.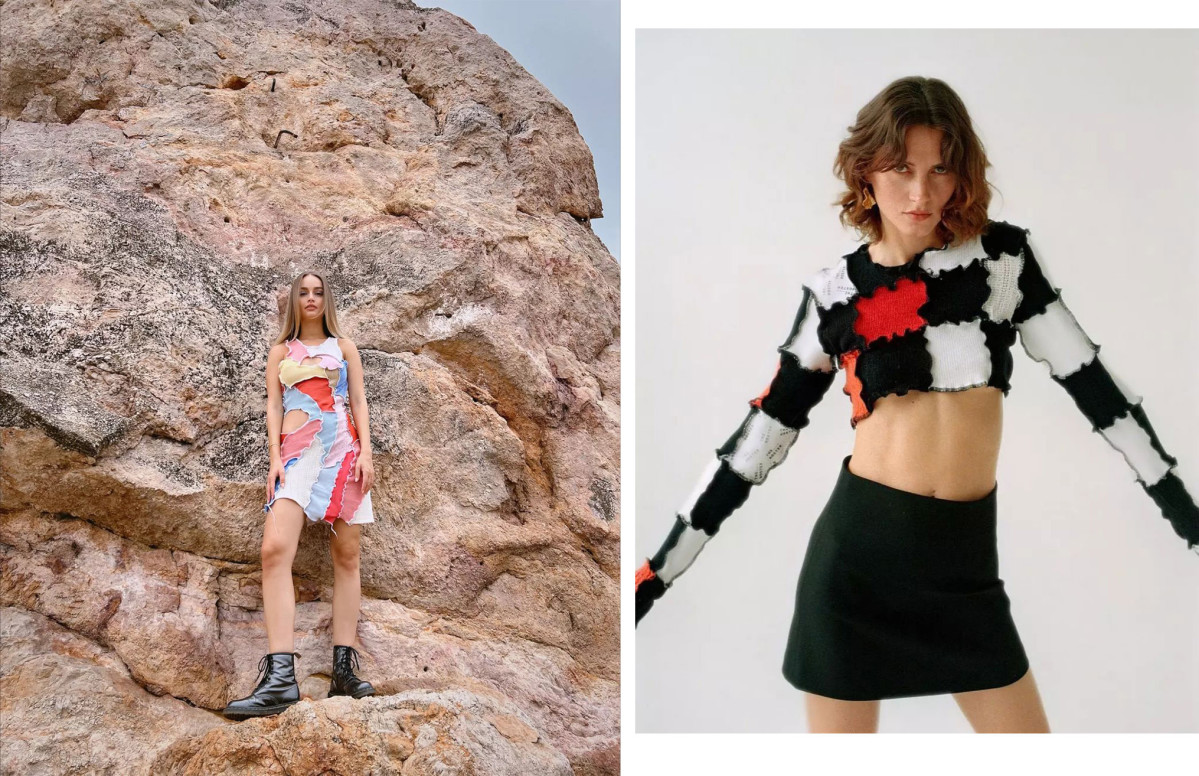 Painting
This upcycle technique transforms plain vintage garments into wearable canvases, adding a unique touch to your outfit. Armed with fabric/leather paint and a brush, artisans can turn the simplest piece of clothing into a masterpiece, like this reworked leather jacket: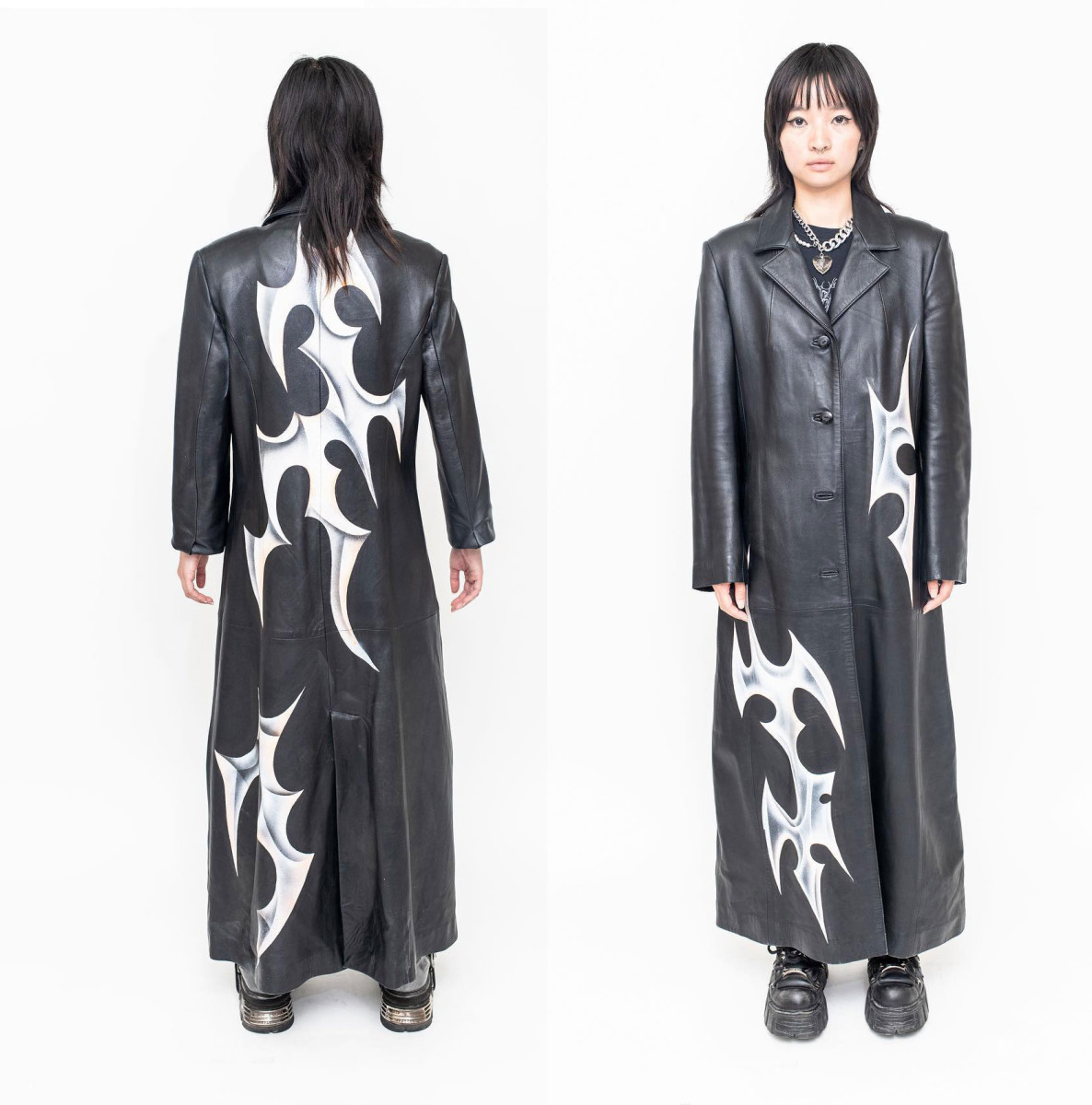 Embroidery
Embroidery is to clothing what cheese is to pizza – it just makes everything better! It involves decorating clothes with thread or yarn, creating intricate patterns that can range from blooming flowers to abstract shapes. Feminist embroidery is also a thing. We loooove reworking vintage clothes with embroidery! Find them here.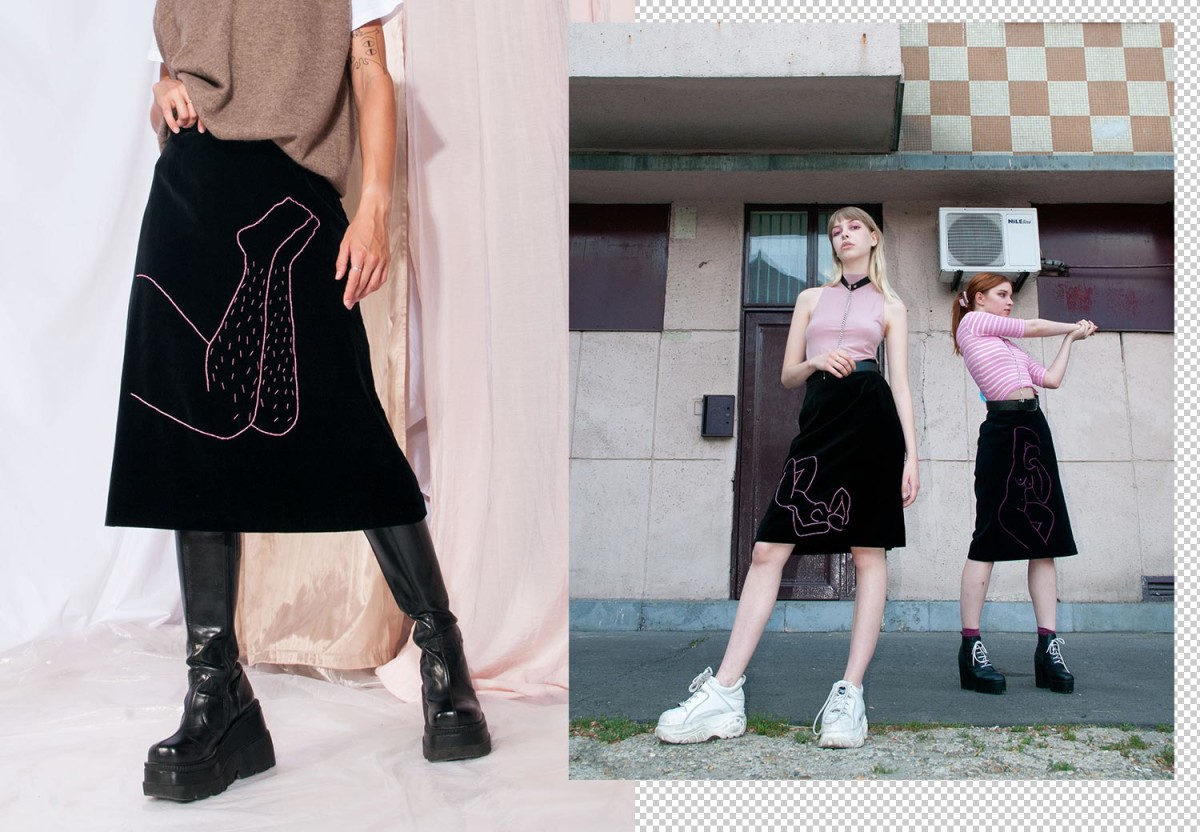 Distressing
Think of it as giving clothes a 'roughed up' look, without the actual roughing up. Distressing, or wearing out clothing on purpose, gives that 'lived-in', grungy appeal. It's most commonly seen on denim, turning an ordinary pair of jeans into a reworked statement piece that screams 'I've been on an adventure'!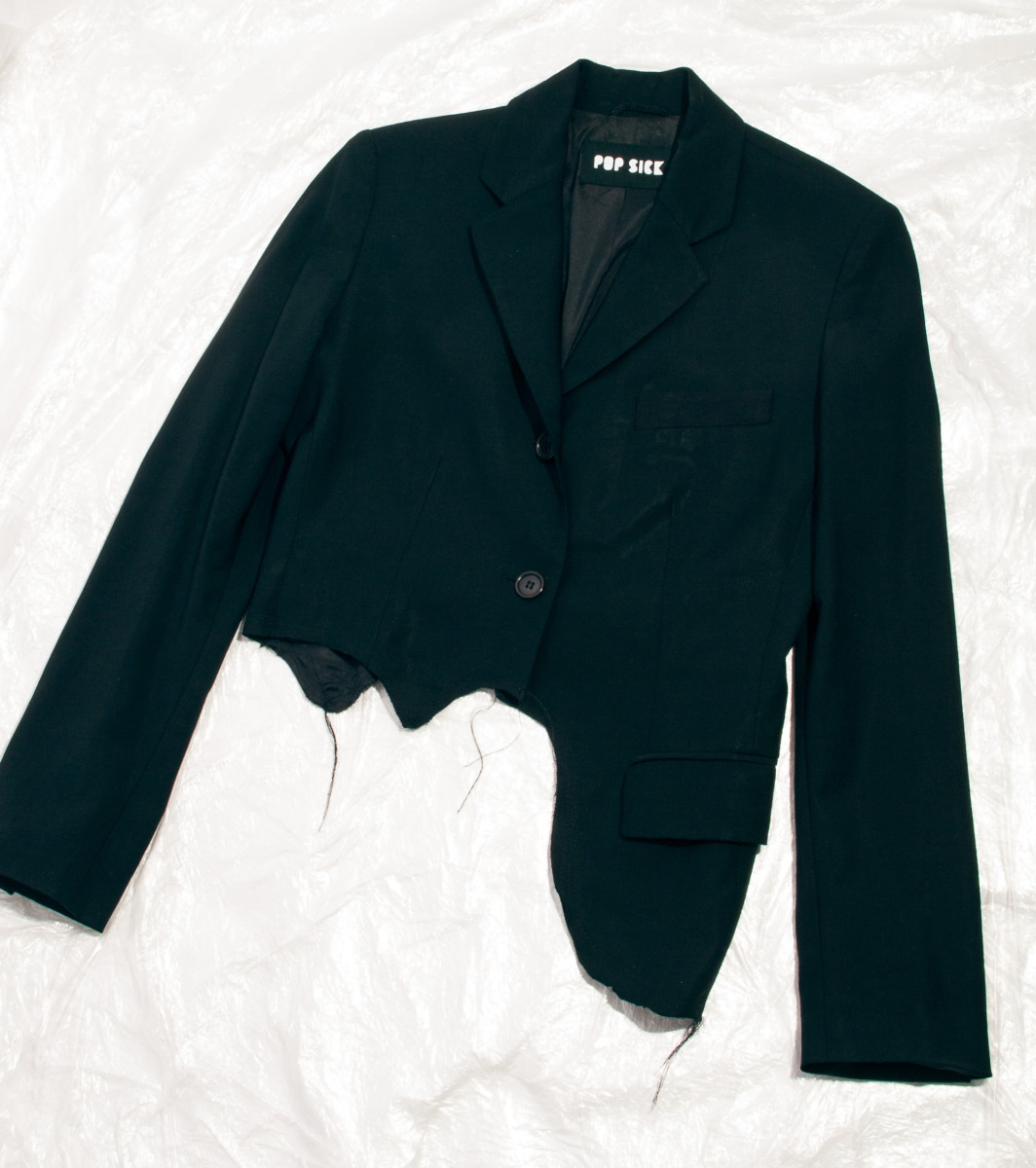 Reworked blazer with distressed hem by Pop Sick
Screen-Printing
This technique uses a mesh to transfer paint onto the fabric, except in areas blocked by a stencil. Screen-printing can transform a simple t-shirt into a real piece of art.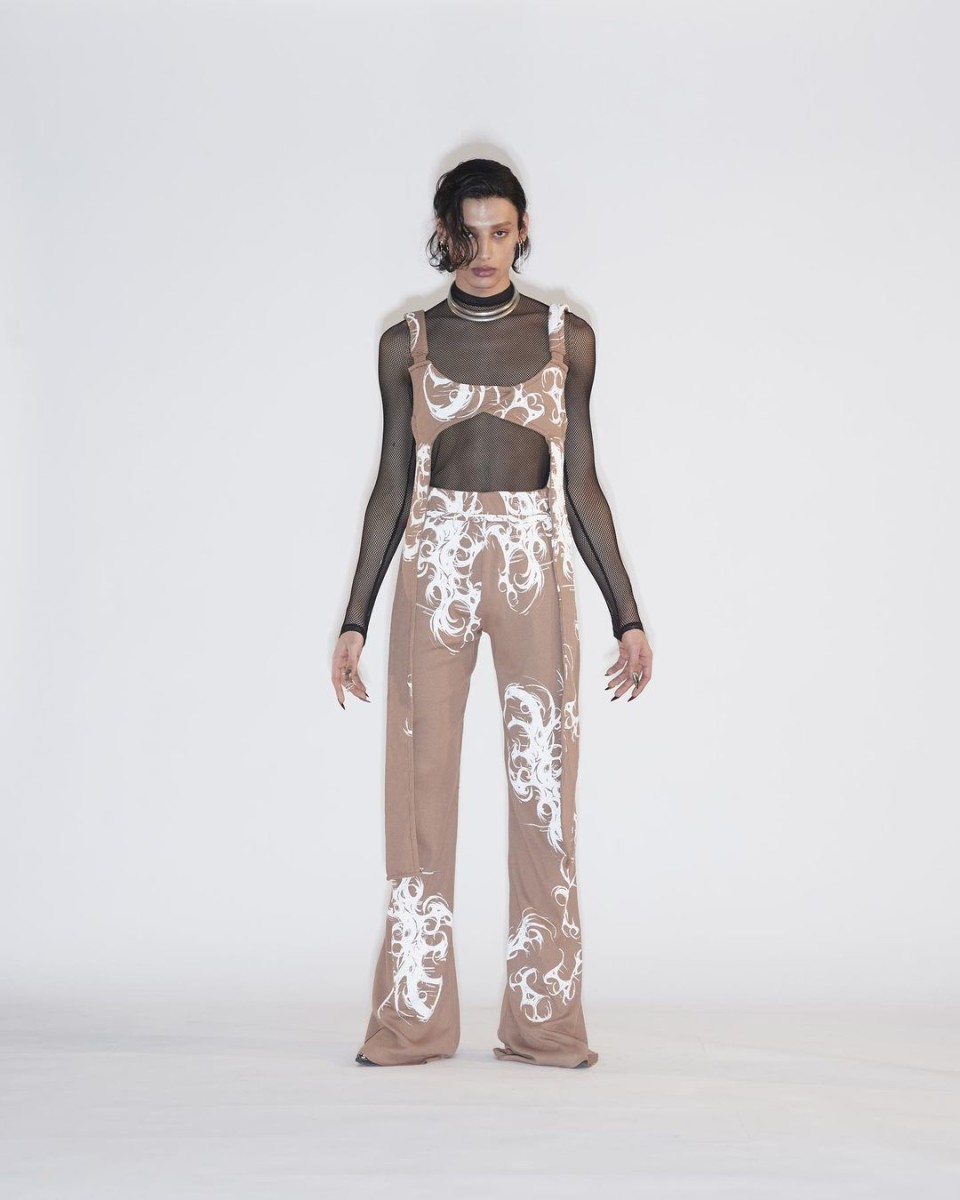 Reconstructing
Reconstructing is where the real magic happens. It involves changing the structure of a garment to create something entirely new. That oversized dress can become a cute reworked top and skirt, those worn-out jeans can morph into a bag. It's basically fashion alchemy!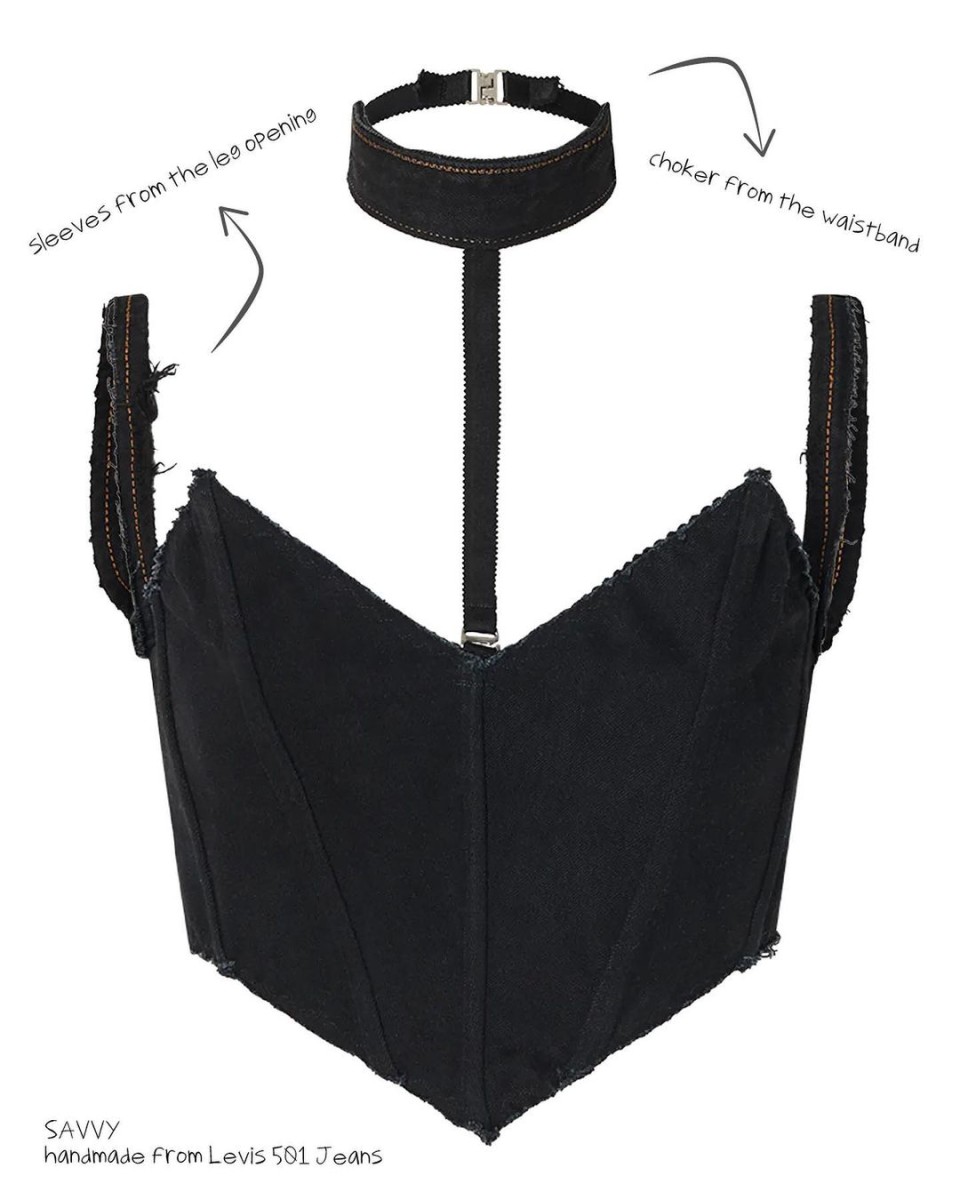 Reworked Denim
A category on its own, reworked denim has a cult following. From adding a panel of contrasting vintage denim to complete reconstruction into dresses, skirts, or even jackets, reworked jeans are a staple of this craft.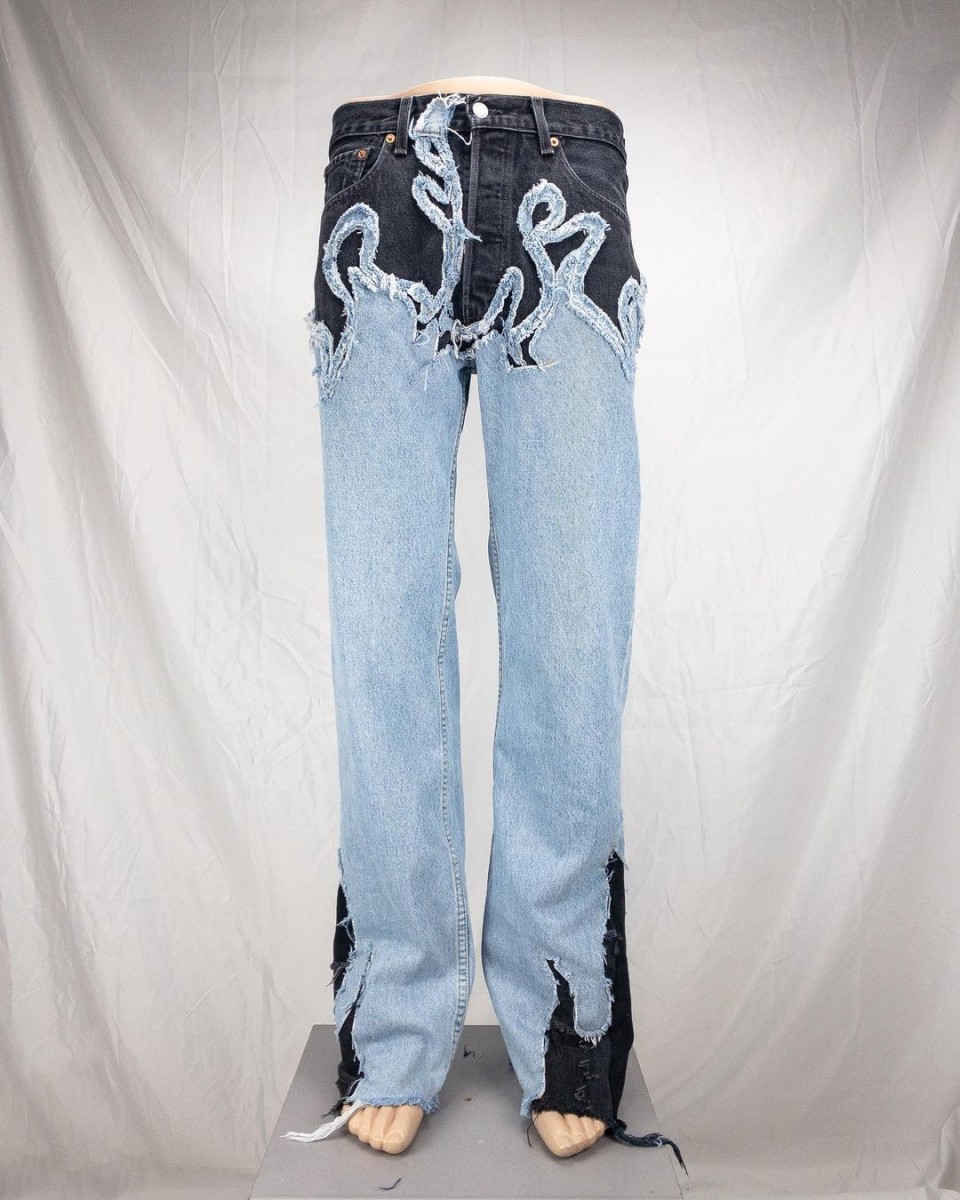 Tie-Dyeing and Bleaching
Tie-dyeing involves folding, twisting, pleating, or crumpling fabric and binding it with string or rubber bands, followed by applying dye(s). The resulting upcycled designs are a free-spirited symphony of colour and pattern, capable of bringing any faded vintage item back to life. Bleaching, often a partner to tie-dyeing, involves applying bleach to specific areas of a garment to either remove or lighten the colour.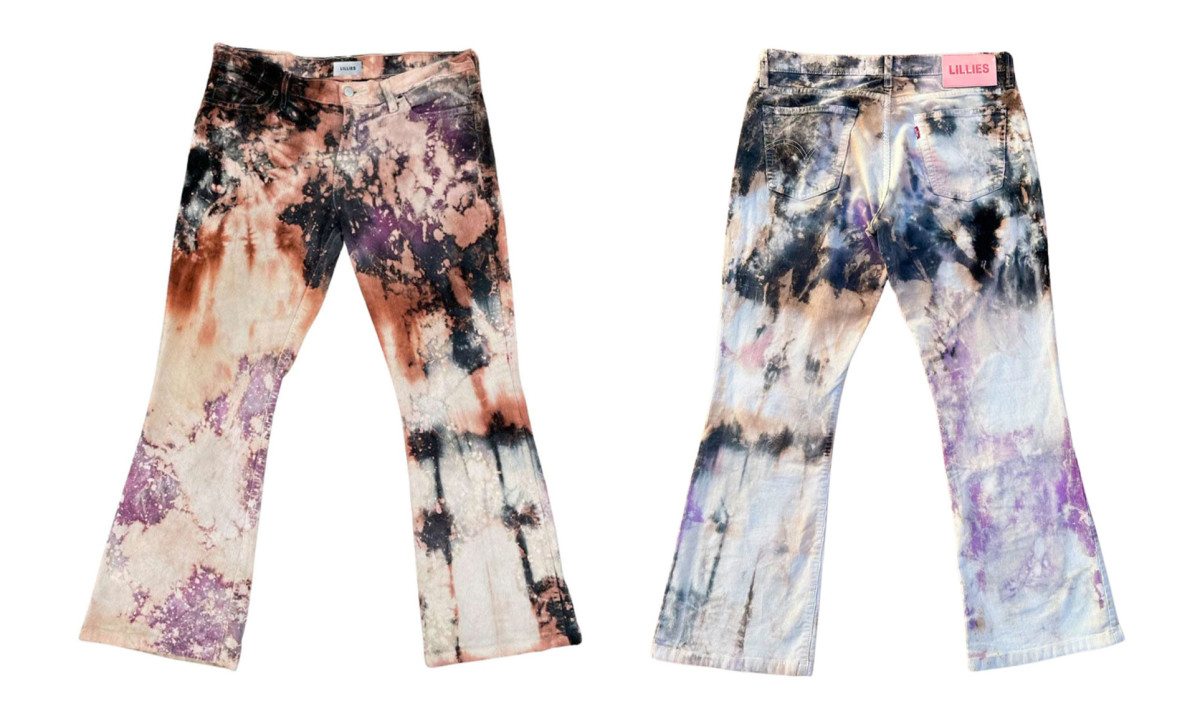 Where to Buy Reworked Vintage Clothing
If you've been nodding along thinking, "This reworked vintage clothing thing sounds pretty darn cool," then you might be wondering where you can nab yourself a piece.
Online Marketplaces
If you're a fan of shopping in your pyjamas (aren't we all?), online marketplaces are a great place to start your reworked clothing hunt. Websites like Depop, Etsy, and ASOS Marketplace are hotbeds of reworked vintage fashion. On these sites, you can connect with independent sellers who specialise in reworked vintage, with items ranging from bleached jeans to reconstructed dresses.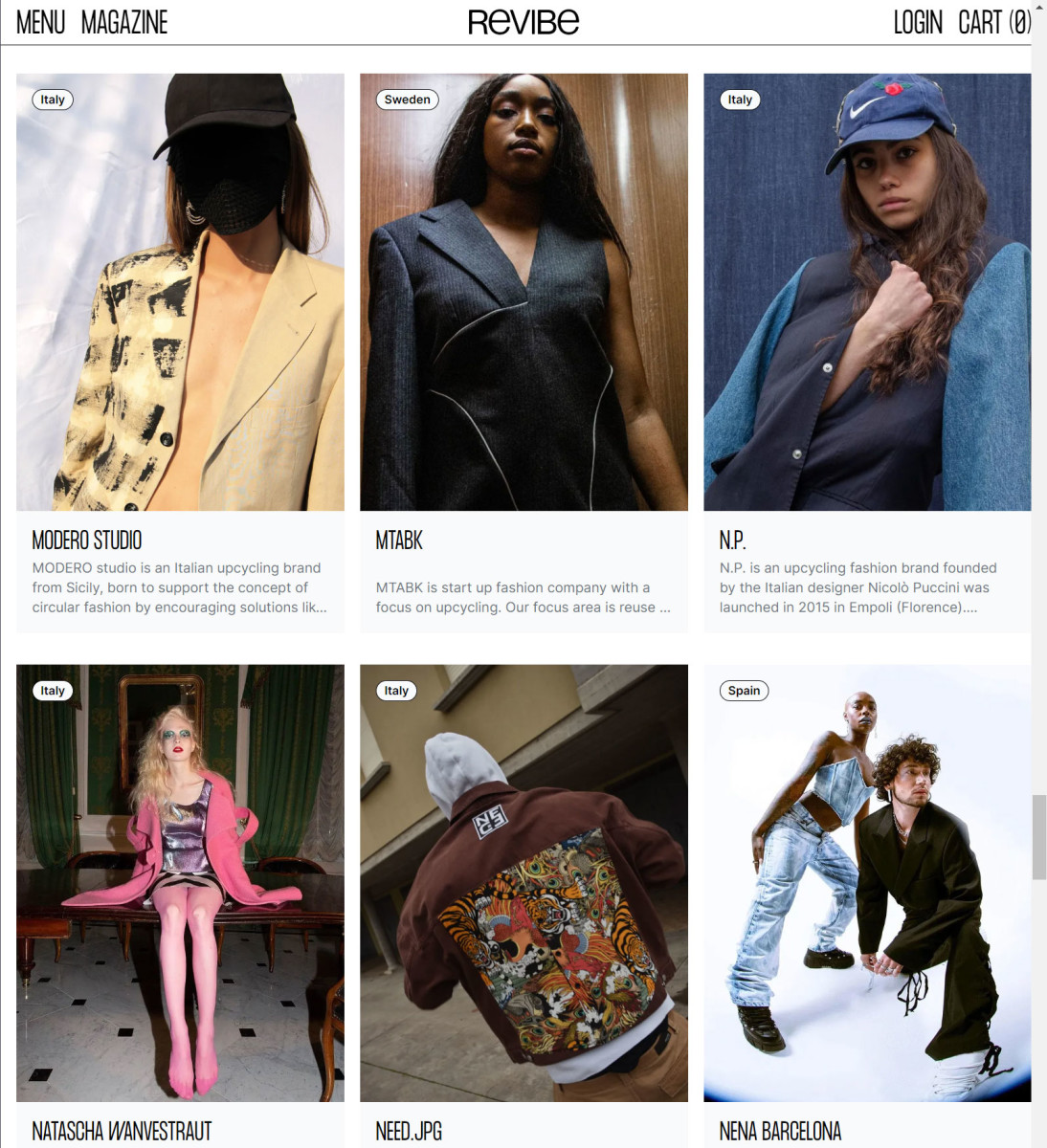 Looking for something a bit more curated? Revibe specialised in selling only reworked vintage clothing and Vasquiat offers a handpicked selection of expertly upcycled and reworked clothing along with their designer line. These online stores often offer unique pieces that you won't find anywhere else. They're perfect if you're looking for that special something to jazz up your wardrobe.
Offline Marketplaces and Art Fairs
For the old-school shoppers who prefer to touch before they buy, offline marketplaces and art fairs are a treasure trove of reworked vintage clothing. You'll find stalls packed with upcycled fashion and repurposed clothing. Plus, you'll get to meet the talents who make the magic happen!
Thrift Shops and Vintage Stores
Thrift shops and vintage stores are often full of reworked clothing. Some stores even have sections dedicated to upcycled clothing, making it easier for you to find those standout pieces.
Reworked Clothing Brands From Europe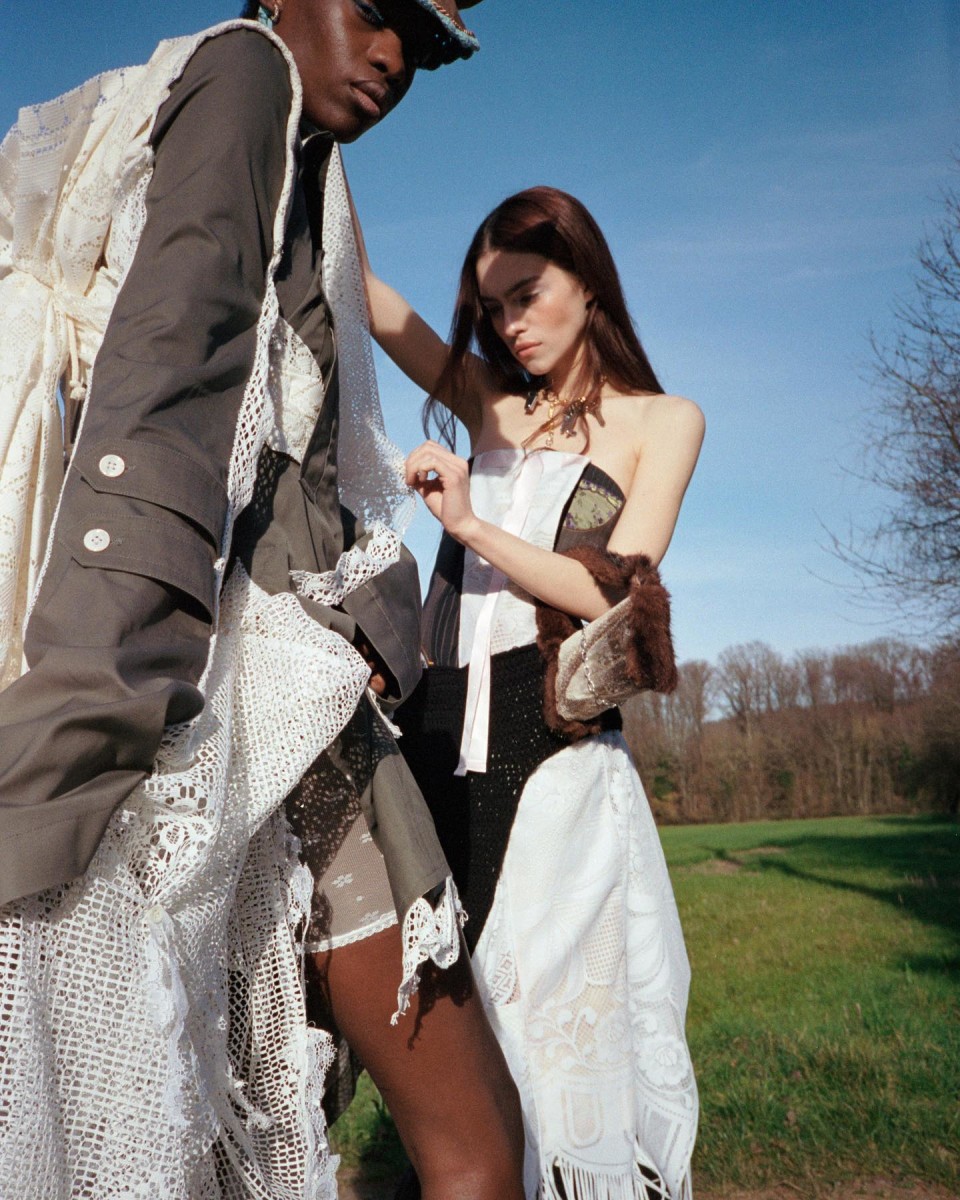 Meiloumi
This brand, hailing from Paris, takes a playful approach to reworked vintage clothing. They are aiming at making new garments out of discarded clothing pieces.
---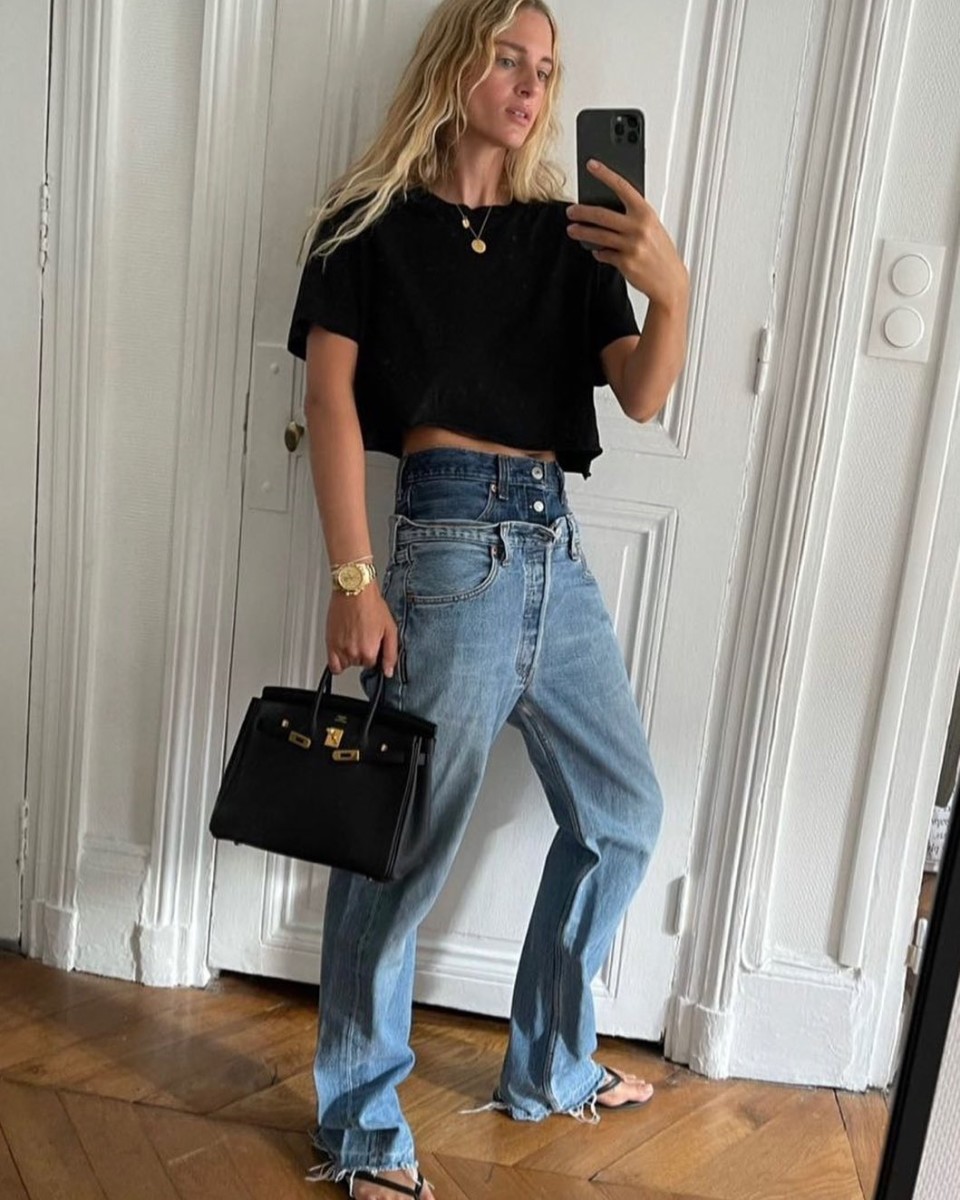 Paris Re Made
This Parisian brand is the master of reworked denim.
---
Domno Vintage
Based in the UK, Domno Vintage is known for mix n match upcycling technique.
---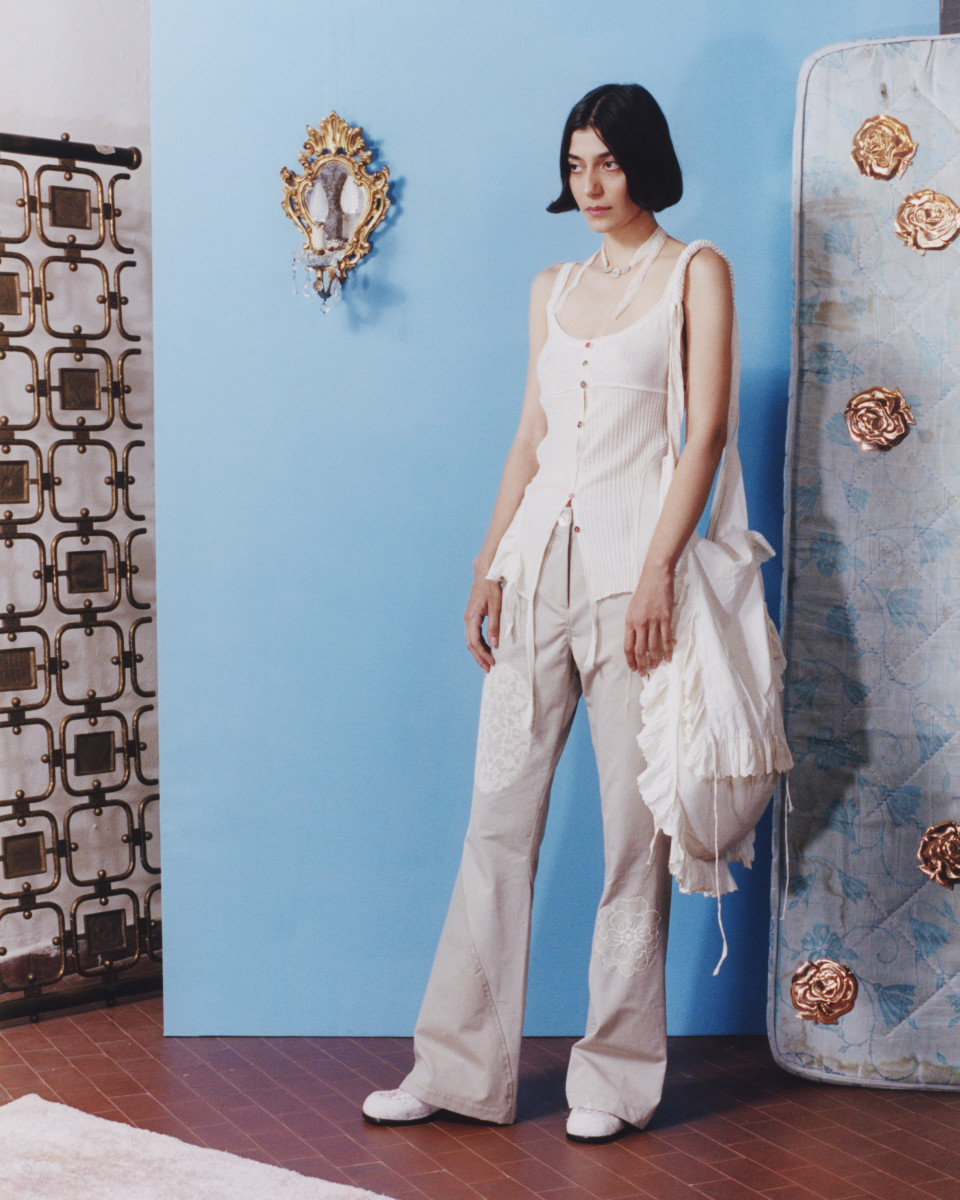 Garbage Core
Don't let the name fool you; this brand creates reworked treasures, not trash!
---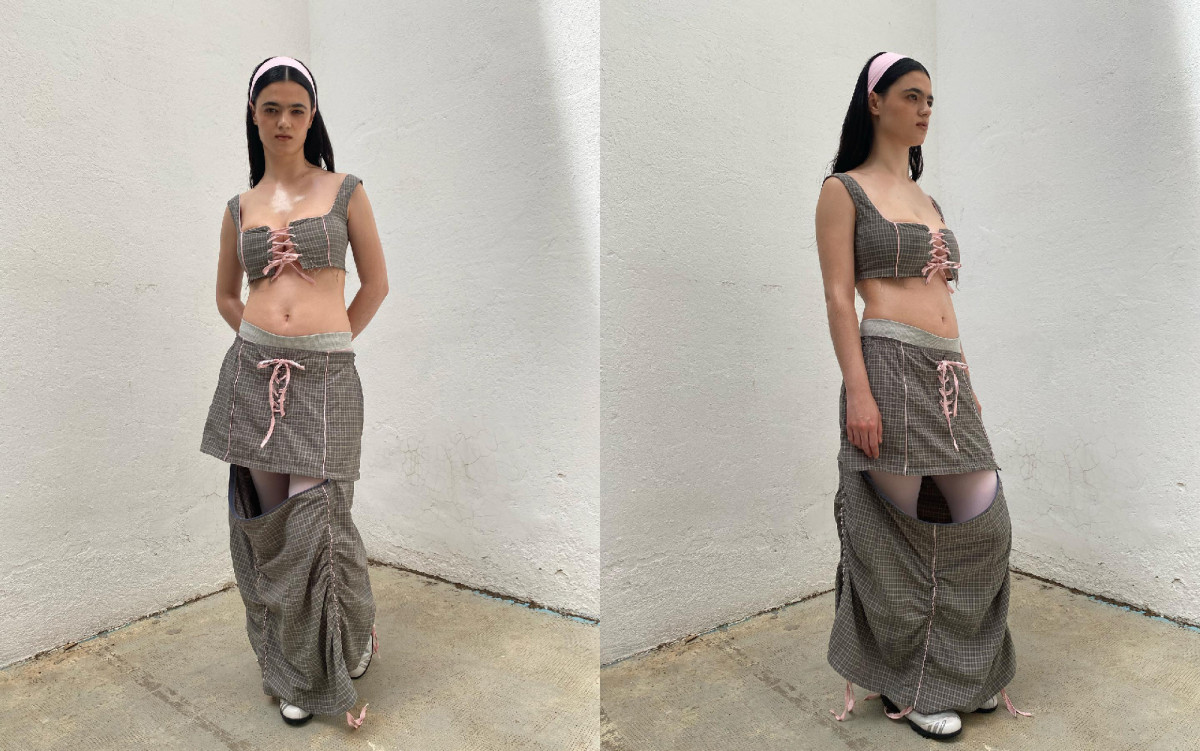 Nimph_
This brand from Spain is known for its high-quality reworked clothing. Nimph_ specialises in reconstructing vintage garments into modern pieces.
---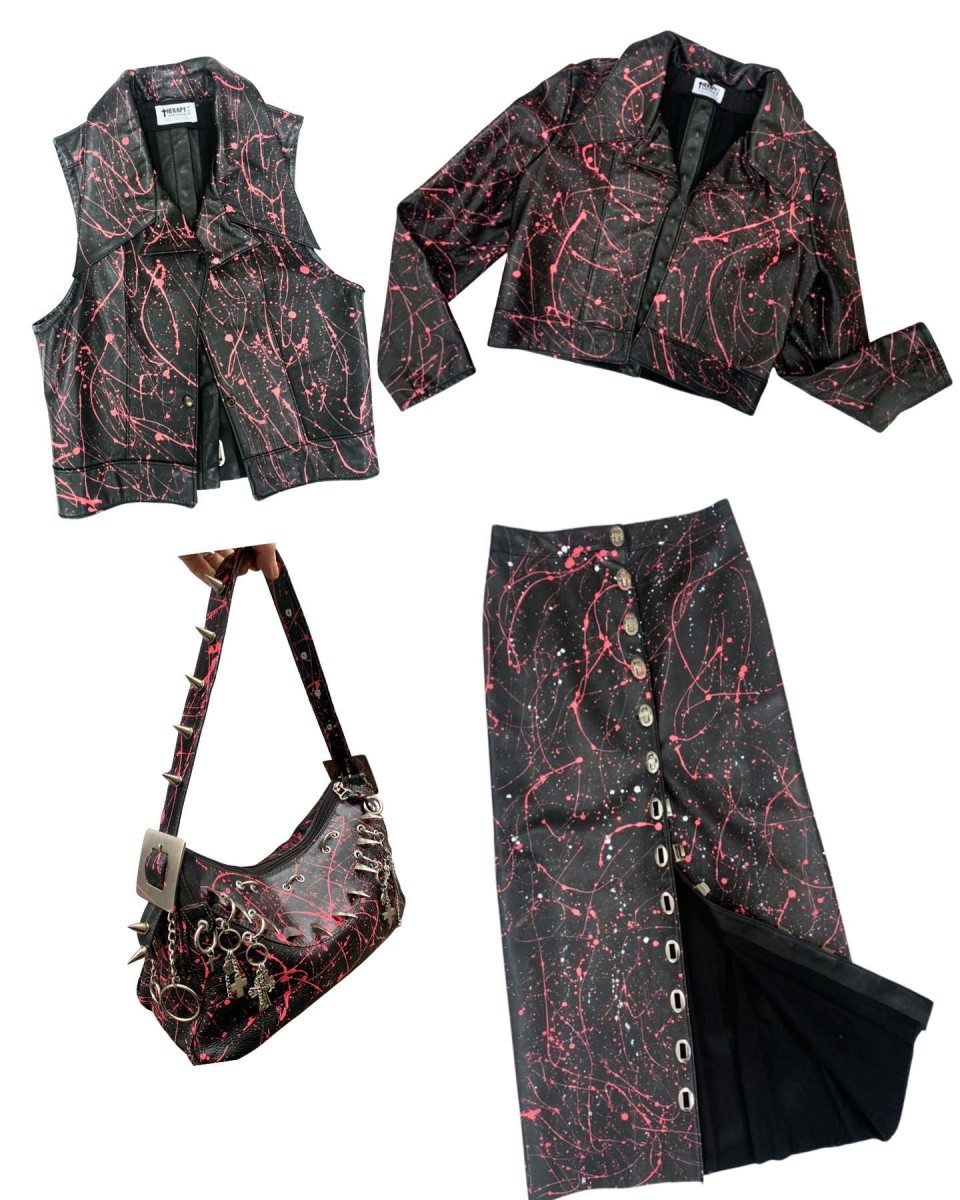 Therapy Berlin
Based in Germany, they're experts in reworking thrifted clothes into underground raver pieces that make a statement.
---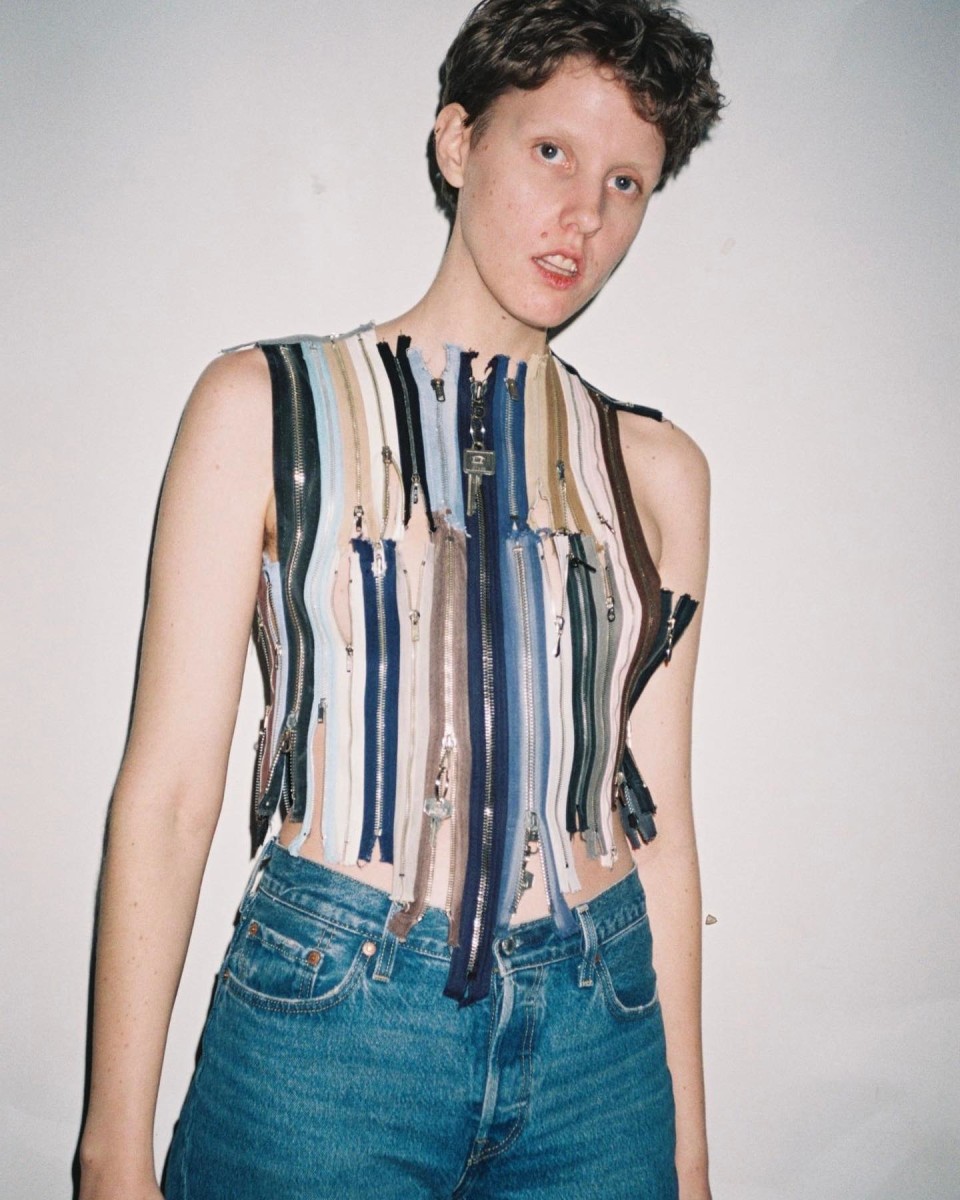 Melisa Minca
A designer based in Berlin, Melisa Minca is known for her unique approach to reworking vintage and second-hand clothing. Her pieces often feature unique cuts, exaggerated silhouettes, and attention to detail that makes each garment a work of art.
---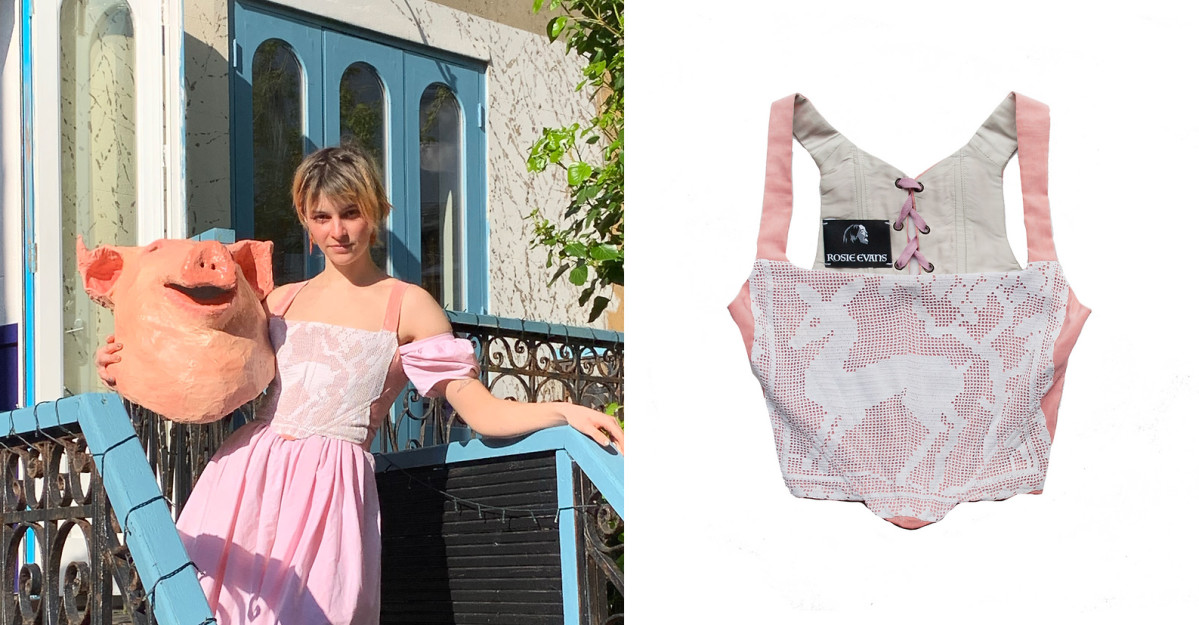 Rosie Evans
A UK-based brand, Rosie Evans is known for her whimsical, anachronistic historically inspired one-off fashion pieces, following the ethical practices of upcycling old textiles and clothing.
---
DIY reworked clothing ideas and easy thrift flips
Ready to unleash your inner fashion designer? Here are some easy peasy DIY reworked clothing ideas and possible thrift flips:
Bleached Denim
Give your old jeans a new lease on life by going down the bleach route. It's easy, affordable, and oh-so-stylish. Simply mix some bleach with water, put on a pair of gloves, open the windows (safety first!), and use a sponge or brush to apply the bleach to your jeans. You can go for an all-over bleach effect, create patterns, or even write words. Once you're done, wash your jeans thoroughly and voilà – you have your very own pair of reworked, bleached jeans!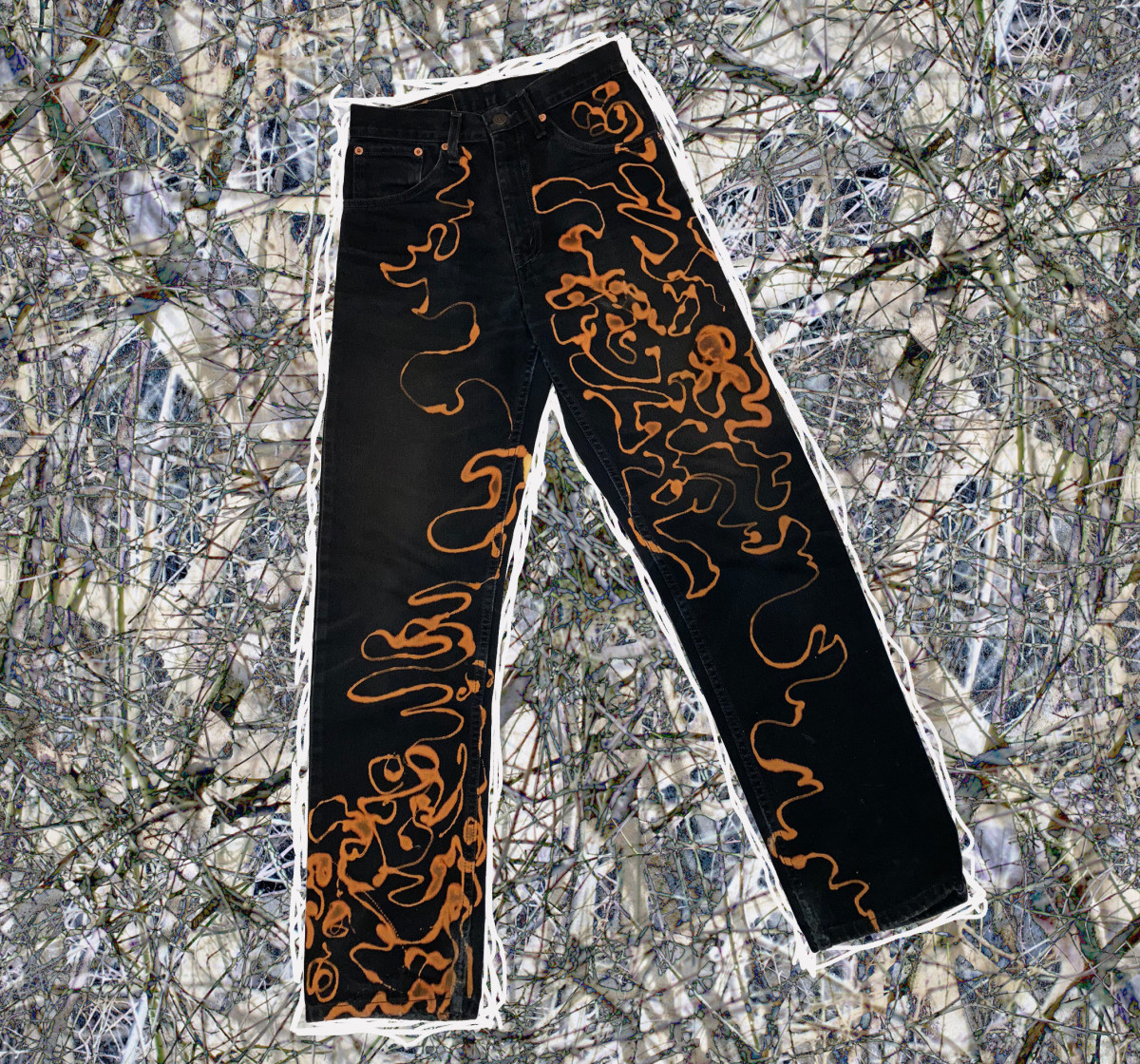 Recutting Hemlines
Recutting and cropping hemlines is a great way to refresh dresses, skirts, and tops. You can turn a maxi dress into a midi or a mini, transform a straight-cut skirt into an asymmetrical one, or give an old t-shirt a trendy cropped look. Remember, measure twice and cut once!
Here is a super easy tutorial on how to turn your lame skinny jeans into rad shorts
Upcycled Leg Warmers Made from the Sleeves of Your Old Jumper
Take an old knitted jumper that you're no longer in love with and cut off the sleeves. Hem the cut edges, and that's it, you've got yourself a pair of cosy leg warmers! Not only will they keep you warm in colder months, but they'll also add a one-off touch to your outfit.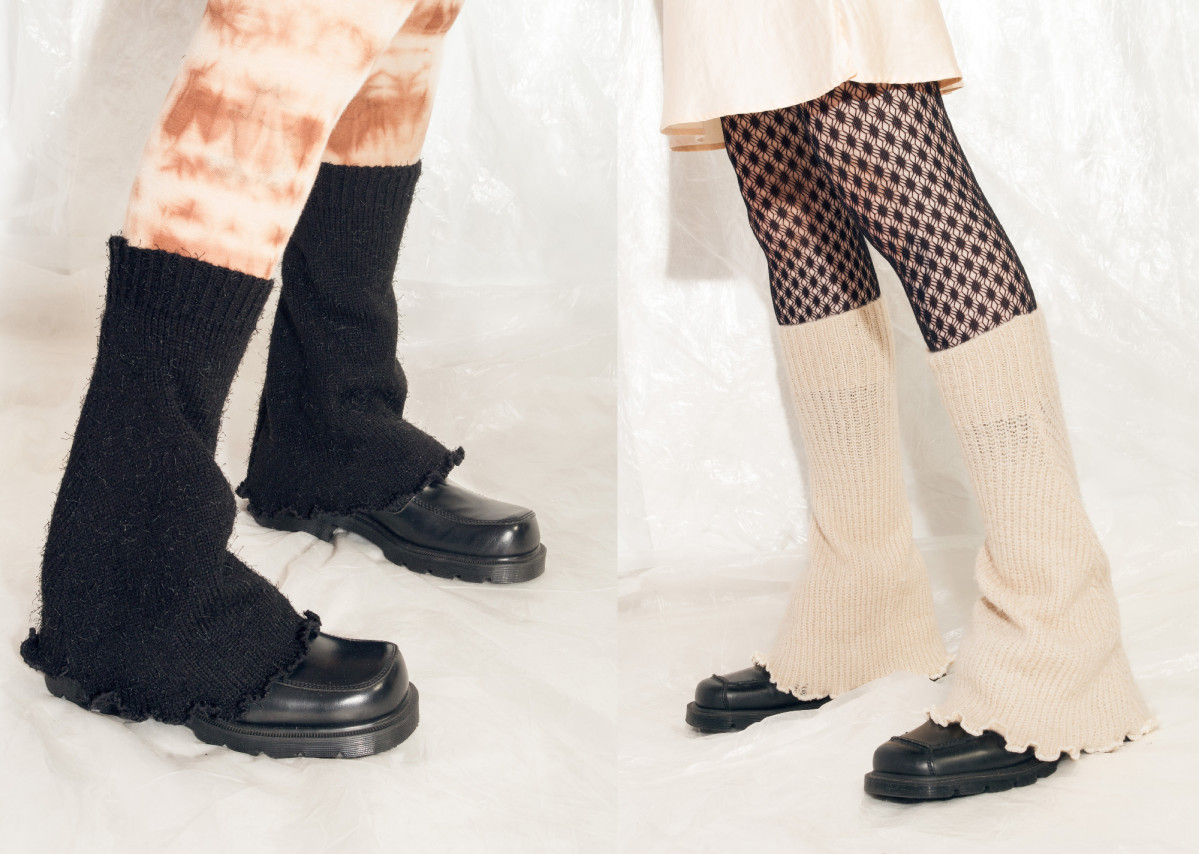 These DIY ideas prove that reworked clothing is not just about buying; it's about creating. It's about looking at what you already have and seeing the potential for something new. It's about expressing your personal style and making your clothes truly your own. So, get your DIY tools ready and let's rework some vintage!
Final Thoughts
In a world where (super) fast fashion is the norm, choosing reworked clothing is not just a fashion statement, but a stand for sustainability. It's a journey of creative discovery and personal expression, one stitch, patch, or print at a time. Every piece of clothing has a story, and with reworking and upcycling, you have the power to add new chapters to those tales. Let's continue to transform, innovate, and rework our way into a more sustainable future.